AWA Co., Ltd. (Headquarters: Minato-ku, Tokyo, CEO: Koki Togashi) operates the subscription-based music streaming service AWA and has launched automatic identification of music used in audio live streams on their online platform called AWA Lounge, where broadcasters can livestream audio while listening to music.
■Benefits of Automatic Music Identification:
With the implementation of automatic music identification, broadcasters no longer need to manually report the music used in audio live streams on AWA Lounge to AWA (Note 1). This improvement makes it even easier for broadcasters to livestream their music performances along with singing, karaoke, and other similar content.
(Note 1: Previously, content creators were required to report the music they used to AWA, which then reported the use to music copyright management organizations such as JASRAC/NexTone.)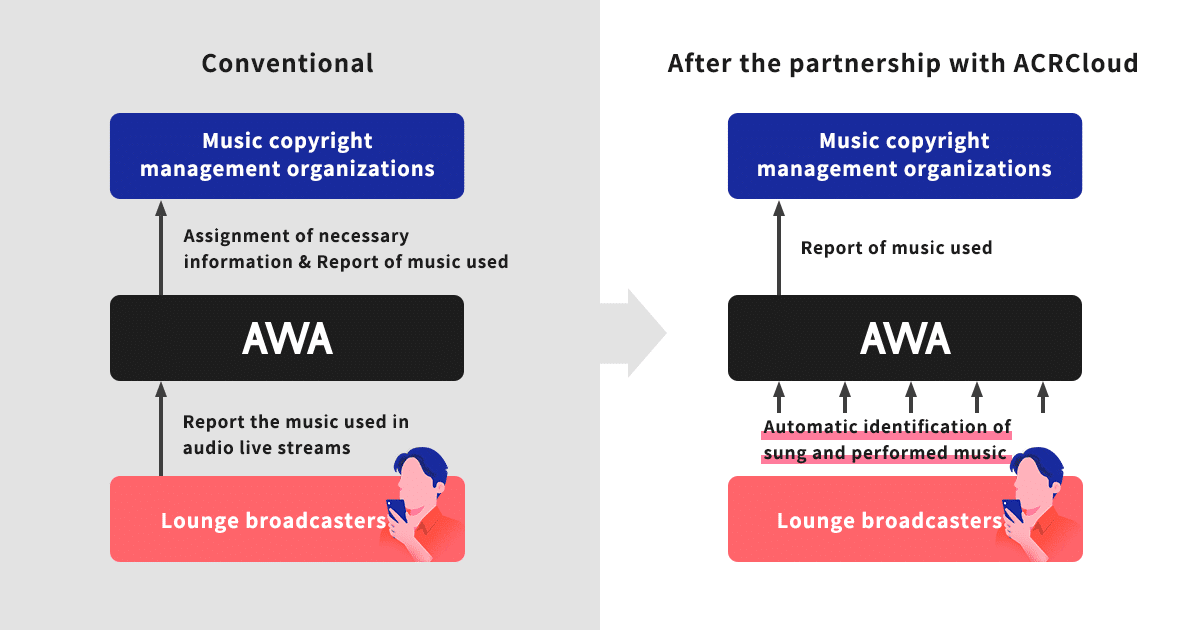 In addition, leveraging AWA's strength as a music streaming service, the identified music will be cross-referenced with AWA's database of approximately 120 million songs, automatically associating the information of each song used and enabling more accurate reporting of music usage to music copyright management organizations (Note 2).
(Note 2: This unique initiative to link identified songs with our proprietary music database goes beyond copyright reporting and has potential for various applications, including Lounge feature enhancements and various analytics.)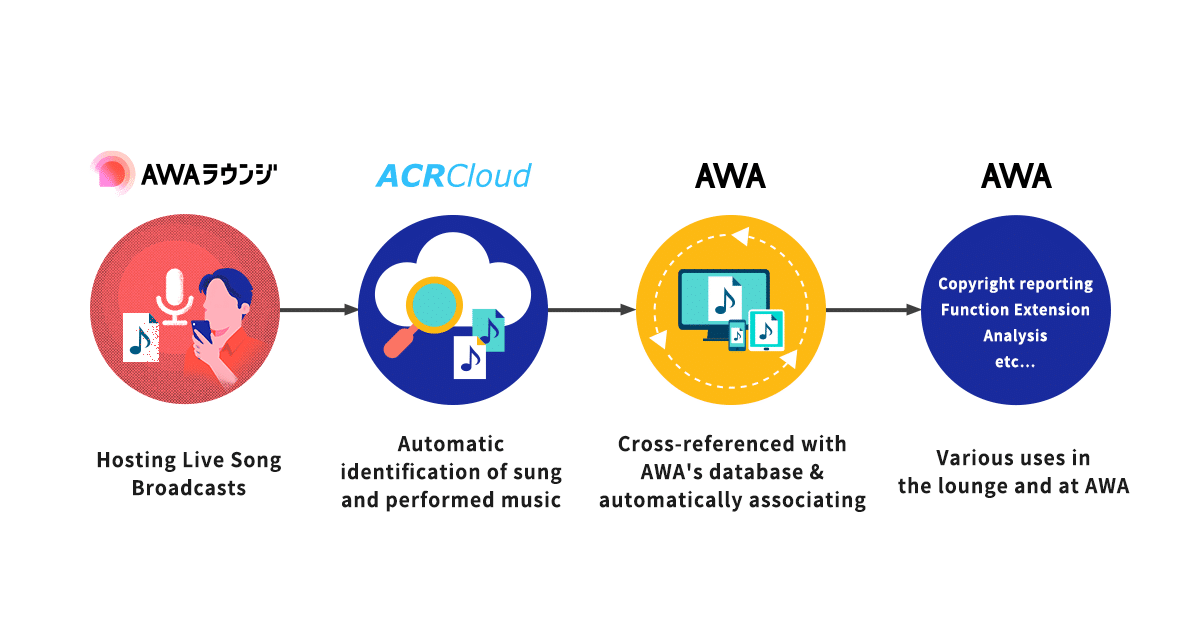 ■Automatic Music Identification Technology:
The technology used for automatic music identification is provided by ACRCloud, known as Cover Song Identification. This solution analyzes archived audio data from AWA Lounge audio live streams to identify the music used.
Cover Song Identification is designed to identify cover versions of original songs. Utilizing ACRCloud's extensive (acoustic) fingerprint database, this solution references melody lines and captures subtle musical characteristics such as key, tempo, and instrument arrangement, thus enabling the identification of cover songs.
■About ACRCloud:
ACRCloud provides cost-effective automatic content recognition technology and related solutions for audio and audio-visual content identification and copyright monitoring. The company's clients include Deezer, The Orchard, Tunecore, RouteNote, Amuse and Believe. ACRCloud ranked #1 in audio fingerprinting technology in the prestigious Music Information Retrieval Evaluation eXchange (MIREX) campaign in 2015 and 2016.
ACRCloud: https://www.acrcloud.com/
■Overview of AWA:
AWA is a subscription-based music streaming service provided by AWA Co., Ltd., a joint venture of CyberAgent, Inc. and Avex Digital Inc. Launched in May 2015, the service offers over 120 million songs and features approximately 13 million playlists created by celebrities and users. AWA provides various pricing plans, including the fully functional "STANDARD Plan" for ¥980 per month (tax-inclusive), the feature-rich "FREE Plan" with all functions except offline playback available for free, the full-feature "Student Plan" for students above junior high school at ¥480 per month (tax-inclusive), and the "Artist Plan" for unlimited access to music by specific artists for ¥270 per month (tax-inclusive). AWA is compatible with various devices, including smartphones, PCs, TVs, car navigation systems, wearable devices, and smart speakers. Since its inception, AWA has continually expanded its plans and features (like Lyric Dive which creates visualizations according to the music in real time and the online platform Lounge where users can chat in real time while enjoying the same music in the same virtual space) to cater to user needs and viewing environments, successfully becoming Japan's largest music streaming service.
Name: AWA: https://awa.fm/
Recommended Systems: Smartphone: iOS 14.0 or later, Android 10.0 or later
PC: Windows 10 (32/64bit), Mac OS X 10.11 (El Capitan) or later
Web Browser: Google Chrome (latest version), Microsoft Edge (latest version), Safari (latest version)
Price: Standard Plan (¥980 per month inclusive of tax) / Free Plan (¥0 per month) / Student Plan (¥480 per month inclusive of tax) / Artist Plan (¥270 per month inclusive of tax. Note: Unlimited access to all music by one artist)
Service Launch Date: May 27, 2015
■Links:
AWA: https://awa.fm/
App Store: https://itunes.apple.com/jp/app/id980578855
Google Play: https://play.google.com/store/apps/details?id=fm.awa.liverpool
Desktop browser app: https://awa.fm/download/
AWA Lounge browser version: https://app.awa.fm/lounge/
AWA Latest Information: https://news.awa.fm/
AWA Official Twitter Account: https://twitter.com/awa_official?lang=ja
AWA Official LINE Account: https://lin.ee/21w3f0k
■Company Profile
Company Name: AWA Co., Ltd. (Pronunciation: Awa ɑːwɑ)
Address: Sumitomo Fudosan Azabu-Juban Building, 1-4-1 Mita, Minato-ku, Tokyo 
Representative: CEO, Koki Togashi
Business Description: Music Streaming Service, etc.
Date of Establishment: December 1, 2014
■Contact Information
AWA Public Relations: press@awa.fm