The New Standard for Music Recognition
We offer one of the world's largest music fingerprint databases of over 100 million tracks which is constantly being updated.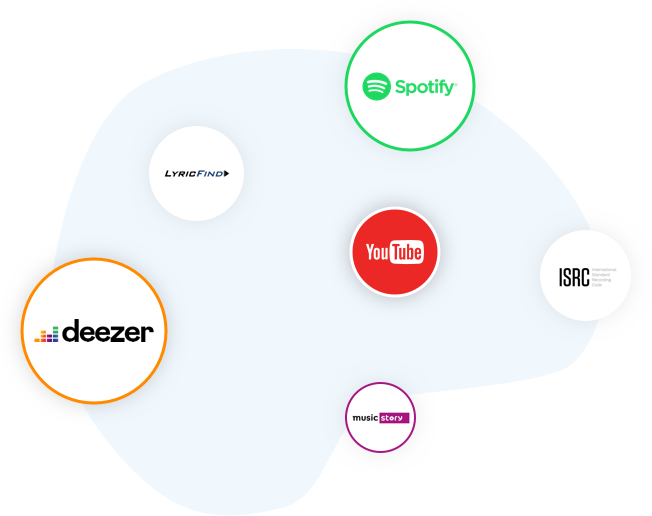 ACRCloud Music Recognition Services allow developers to match directly with online music services ( Spotify, Deezer, Youtube etc ) and standard codes such as ISRC and UPC. It enables clients to offer direct links to their users, allowing them to play or purchase tracks instantly in their respective music services.
Technology in this solution
Industries Who Use This Solution
Music DSPs & Apps
Music Streaming Services, Music and Lyrics Apps, Phone Manufacturers
Distributors &

UGC Platforms

Digital Music Distributors, Aggregators, User Generated Content Platforms
Automotive
Automotive Manufacturers, Tier 1 Suppliers, OEMs
"The BETA has proved very positive, and we are excited to be able to officially announce the launch of Deezer SongCatcher to music fans all around the world."
Alexander Holland
Chief Product and Content Officer of Deezer
"Today, we are introducing the Anghami Radar feature, and we are positive that our users will find satisfaction in being able to quickly and accurately detect songs they are listening to outside of Anghami, and bring them into their libraries quickly and accurately."
Elie Habib
Co Founder of Anghami
"ACRCloud's state of the art music recognition technologies simplify the music searching process in HUAWEI Music and improve the user experiences."
Wei Wu
Director of Consumer Cloud Service Music Business Dept., Huawei
"KKBOX continues to enhance the user experience to fulfill a user's needs in various contexts. With music and humming recognition features, you can identify a song more quickly and intuitively, and then easily collect or share the song."
Sophia Lin
Vice President - KKBOX Product Develop Center